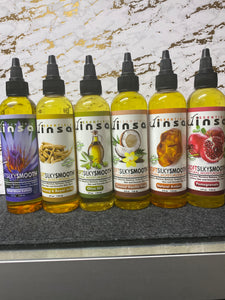 Jinsa Essentials Moisturizing Oil Spray
More info: Apply this moisturizing oil blend over your entire body immediately after a bath or shower - while your skin is still damp. Notice that your skin will become incredibly soft silky and smooth.
Ingredients: Natural Vegetable Ingredients: Safflower Oil, Olive Oil, Shea Oil, Meadowfoam Seed Oil, Sesame Seed Oil, Coconut Oil, Sage, Vitamin-E, & Botanical Essential Oils.
Benefits: Skin softening antioxidants & nutrients • Leaves skin beautifully silky • Absorbs quickly for a smooth tone & radiant glow
6 oz spray bottle - not pictured